Shagun Matrimonial Centres, are the leading and most successful matchmaking service brand, which has been trusted since 2004 by parent's all over the region to help them find a compatible soulmate for their loved ones. Till date, thousands of our clients have found their life partners through our assisted matchmaking service and many
Shagun Matrimonial Centre was founded by a team of professionals having rich experience of more than 15 years matrimonial services with a single unambiguous objective i.e to help an individual find his or her desired soulmate by using latest technology together with team of committed and trained professionals assisting them in their endeavor.
Right from the start, we have been chasing our objective and have been successful in our endeavor to a great extent which is evident from the several alliances or success stories in different religion & caste which we have been able to create during our journey.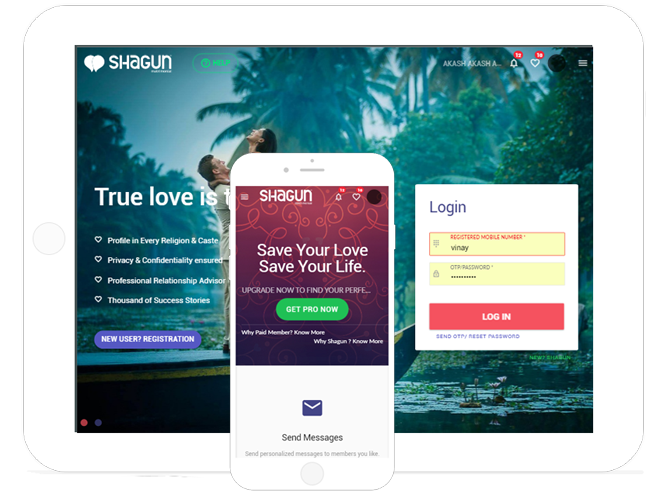 The philosophy
of our team at Shagun Matrimonial is loud and clear
Understand the needs and requirements of prospective singles or their parents through constant research and analysis and translating the outcome into our product.
Provide a joyful matchmaking experience to our customers by using superior technology while protecting their privacy and security
To provide our valued customers a user friendly interfaces along with features that can help them locate and contact their prospective life partners
To provide the matchmaking services through our matrimonial centers where our professional and experienced relationship managers will personally assist you right from the first step of registration to the final destination of being united with your prospective life partner
Our Vision
Our Vision is to create a unified matrimonial platform that provides a bundle of matchmaking services to our customers by making superior use of technology.
Our Mission
Our mission is to create a superior match making platform that provides a joyful matchmaking services to our customers in finding their soulmate by providing them in-depth quality information delivered with sense of warmth, mutual respect, privacy and understanding.